It's safe to say that Talent Agent extraordinaire Michelle Hayes knows a thing or two about what it takes to make it in front of the camera.
Before becoming part owner of one of the countries fastest growing talent agencies, the Chicago native spent a decade as a working model and actress with appearances in a number of music videos, commercials, and national print ads. After a foray into talent consulting where she assisted aspiring entertainers with the insight to launch their acting and modeling careers, Hayes soon teamed up with Patti K. Gill to form Gill Hayes Talent Agency.
As the only African American SAG/AFTRA franchised agency in the state of Illinois, they have helped launch the careers of several actors in a short amount of time. Many of their clients can be seen on shows such as Chicago Fire, Chicago PD, Empire, Sirens and a slew of upcoming films. Within the span of a couple years, Gill Hayes has garnered national media attention from the likes of Fox News, Heart and Soul, and Windy City Live, as well as being selected as one of TV One's esteemed Change Agents.
N'Digo recently sat down with Hayes to discuss her career both in front of the camera and behind the scenes while making the dreams of others come true.
As a child what did you dream of becoming when you got older?
When I was younger, I dreamed of someday of simply being successful. At that point, I didn't know exactly what success looked like but my parents always told me that I could be whatever I wanted to be and do whatever I wanted to do. That message is one that certainly stuck with me and I now find myself saying that to my son.
After college you initially planned to work in corporate America but got bit by the acting/model bug. How did that swift 180 happen for you?
After graduating from Hampton University, I started pursuing careers in marketing and advertising. I have always been a person who can work with others and come up with ideas so that seemed to be the perfect match. Unfortunately for me at that time, there weren't many opportunities so I began modeling for commercial and print. After my very first photo shoot, I learned a lot and was afforded a lot of insight thanks to the photographer that worked with me. He referred me to a few modeling agencies and from there I set out on my journey of modeling which took me to Hollywood.
What were some of your acting and model highlights before you turned your attention away from being in front of the camera?
I have been in a few music videos, several commercials and a couple of magazines. My fondest memory was co-starring alongside R&B Singer Dave Hollister in his music video "One Woman Man" which was a chart topping song. I had fun working on many of those videos because I was not your typical video girl – mom and dad would never approve of me wearing any scantily clad clothing.
What are some of the things you saw occurring during your acting and modeling days that pushed you to begin A List Talent Consulting?
I started consulting parents because people would often stop me when I was out and ask how I got started in the business. When I started hearing the stories of how they had been paying people to get them on television – I cringed. The one thing many people in the television and film industry know is that you never pay to get a role. Knowing all of this, I felt like it was truly my calling to help people understand the business if they were really serious about pursuing a career as a model or actress. From there, things really took off. I really wish I could credit myself but I had lots of faith and many people rooting and praying for me.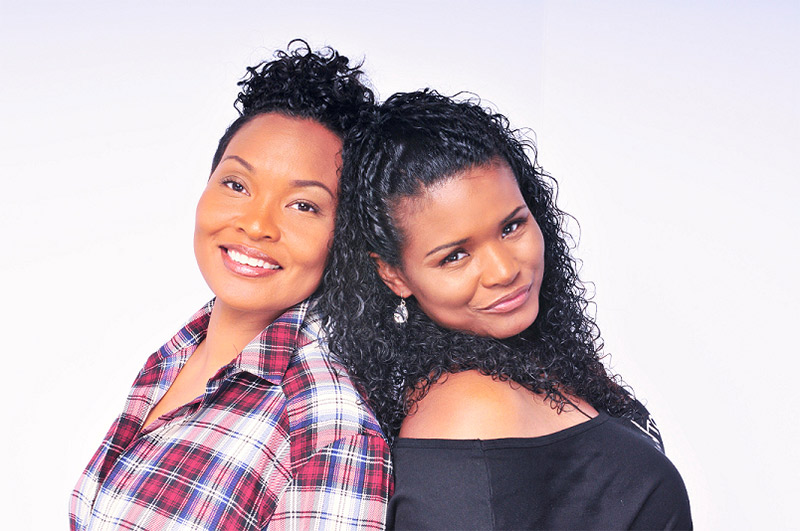 Tell us about Gill Hayes Talent Agency and how it came to be?
After working as a consultant for some time, it only made sense to form a business. I really had an "aha" moment. I had known Patti Gill from just being in the business. She has children that are actors so I would see her out at various auditions. We hit it off really well. She loved my idea and thus GillHayes Talent Agency was established in 2014. The beautiful part is that we started our agency right as Fox Television started casting for their hit show Empire starring Taraji P. Henson and Terrance Howard. As you can imagine, there was a great need for talent which was perfect for us because we were able to give many untapped Chicagoans the opportunity to showcase their talent. After placing actors on several of Chicago's most prominent series – Empire, Chicago Fire, Chicago PD, Chicago Med, Chicago Justice and Shameless, we were featured on many of the local news stations in Chicago. We also got the opportunity to get several of our clients in Director Spike Lee's film ChiRaq. After that rapid growth, we branched out and opened our second office in Atlanta as there are lots of projects happening in that city.
Tell us about your upcoming event with Issa Rae?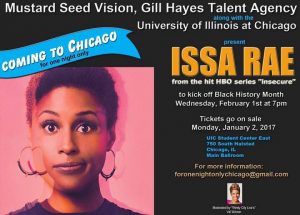 On Wednesday, February 1st, Gill Hayes Talent Agency, along with the Black McDonalds Operators Association, Cinespace film studios, Gorgeouswithin, Lottabody, Mustard Seed Vision and the University of Illinois at Chicago will bring Golden Globe Nominated Actress Issa Rae to the campus of UIC. I, like many women and men, absolutely love her and all that she embodies – she's smart, beautiful, witty and real. I was interested in bringing her here because I feel she has a message that speaks volumes about how we don't have to wait for someone to open a door we can create our own doors. Knowing that she created, wrote and starred in her own web series "The MisAdventures of Akward Black Girl" and then to do the same with the hit HBO series "Insecure", I am over the top excited about seeing and hearing her story. As an agent, I tell my clients all the time, don't wait for someone to cast you – cast yourself and make things happen.
What's the biggest misconception you think a lot people have about entering into this arena?
I think people look at actors like Denzel Washington and Viola Davis and think they can be a star overnight. It's not going that easy. I tell people all the time that you can't wake up and play the piano just like that. You have to practice and the same thing applies to acting – you must hone your craft.
Who would you cast to play you in your biopic?
Nia Long or Regina Hall
What's something people would be surprised to know about you?
I am very clumsy. I can literally do four things at once and never miss a beat but if you leave a bottle of water on my desk I will definitely spill it somewhere near the computer.
What are you listening to these days?
I listen to a variety of hip hop. Mostly Drake – as I can dance really good in my car
Best advice to aspiring to be in entertainment?
Do your research, make sure you have tough skin, study your craft, accept that you will hear lots of no's but be humble when you finally get that yes.
Favorite quote or affirmation?
My favorite scripture is Philippians 4:13 – I can do all things through Christ who straightens me. I am living proof of this quote. I have to acknowledge that my agency is where it is today because of God. I often say GHTA stands for God's Hands Talent Agency.
What's next for Michelle Hayes and Gill Hayes?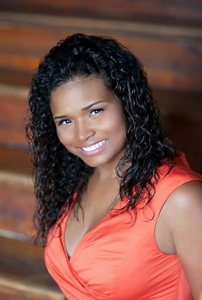 I have a few things cooking right now as I am a creator. I can't wait to share it with you soon. The sun is certainly shining in my life. I am very thankful for all that God has done and for what He's going to do.
For more information on Gill Hayes Talent Agency, please visit www.gillhayestalent.com