Born to a 19-year-old cocaine and heroin addicted mother on the south side of Chicago, Rahkal Shelton came into the world with the odds stacked against her. Surrounded by drugs, despair and violence, being repeatedly evicted and moving from state to state, and even having to endure sleeping under a carpet in freezing temperatures at times, Shelton was determined to make a better life for herself despite what her environment predicted for her.
Today she is an author, visionary, media specialist and mentor. Passionate about serving and impacting culture, she loves volunteering, educating and empowering youth through mentorship. Over the last decade, Rahkal has worked in sports, news and entertainment media. She currently works for CNN and has experience both on and off camera with talents ranging from hosting, coordinating, producing and directing. In 2009, she found her purpose and gift of mentoring and organizing. This has led to working with disadvantaged students as well as employees within elite corporate structures, proving by action that she is a helpful guide to both.
N'Digo recently sat down with Shelton to discuss her life, career, and new book, Dreams Bigger than Texas: A Story of Purpose, Perseverance and Growth Into Womanhood.
How did your humble beginnings in childhood fuel your drive to succeed as an adult?
My humble beginnings caused me to want to be better than what I saw and was exposed to. I didn't want to make the same mistakes my mother made. Never having anything as a child made me want everything.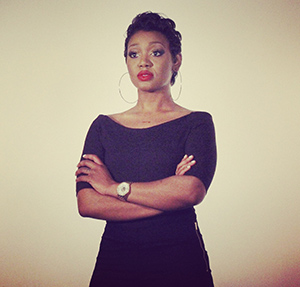 If you can say anything to any youth facing similar surroundings as you did, what would it be?
This is not how your life has to be. You are in control. You can have and be more. While in school, education and exposure are your friends and ticket out. Be different, get exposed to other things outside of your hood, venture out, make different choices than your friends make. It's okay not to follow the crowds. Be the leader.
Tell us about your work at CNN?
I work in the Technical Operations department. In a nutshell, I'm responsible for making sure what you see at home is up and running smoothly. Making sure it all looks and sounds good as well as seeing to it that the on time transitioning to and from commercial breaks goes without a hitch.
Tell us about your new book, Dreams Bigger Than Texas: A Story of Purpose, Perseverance and Growth Into Womanhood?
If you're a fan of The Wood, Crooklyn, The Coldest Winter Ever, The Pursuit of Happiness or Being Mary Jane you're going to appreciate Dreams Bigger Than Texas. It's an incredible rose that grew from the concrete story of a young woman coming of age, overcoming adversities and striving for success. It's a hood story, a love story, and a story of hope strength and tenacity all rolled into one.
What's the significance behind the book's title?
The title was created in my senior year of college at Texas Southern University. I wanted more than where I was and we know everything is bigger in Texas. So, my dreams superseded where I was physically. Hence the title Dreams Bigger Than Texas.
What motivated you to write this book and when did you decide that you had a book inside you that you needed to get out?
I knew a book was in me since about third grade. I would fold pieces of paper into fours, tearing them out and stapling the sides to make little books. It wasn't until senior year in college that it hit me: I was two months away from graduating and so amazed! I couldn't believe, not only did I graduate high school, but I was preparing to graduate from college! I was going to be the first in my family to do both. My mother's expectations were for me not to get pregnant and to get my GED. So to exceed those and then some was shareable. I knew I needed to share my story
What's your favorite thing about Chicago or favorite things to do when visiting?
Although the Bears kinda suck this year, I miss games at Solider Field in the brisk fall weather. I also really miss the camaraderie of sports fans across the city watching the games at a bar, pub, house party. Chicagoans are all about their city and teams even if they aren't playing so well.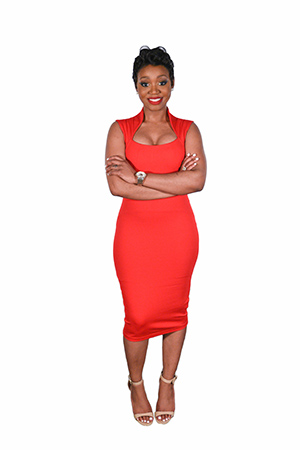 Best advice for those aspiring writers?
You do NOT need permission to be great! Writing has no rules or "right way". Get started and create your own mark and signature. You have a lot to say.
Favorite quote or affirmation?
People like to say good things comes to those who wait but I say everything comes to he who hustles while he waits. What can you do in the meantime?
Tell one guilty pleasure that you have?
Laughing at random vine, Instagram and youtube videos.
What are your thoughts on this crazy race for President?
All I can think is 'Am I in the twilight zone or nah'?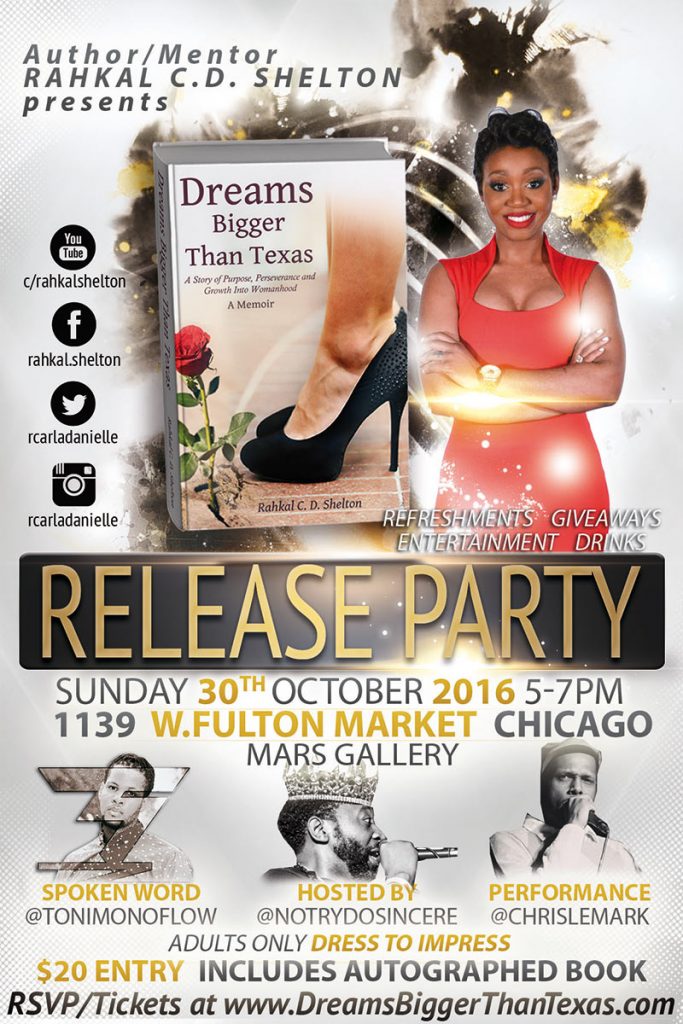 What's next for Rahkal Shelton?
Short term goal is to continue to inspire youth & young adults to chase their dreams, defy odds and to rewrite their own story. I want to travel across the country to every major underprivileged, inner-city school (the forgotten ones) and speak directly to those youth.
On Sunday October 30th, 2016, Rahkal Shelton will be launching, Dreams Bigger Than Texas, at MARS Gallery (1139 W. Fulton Market) 5pm – 7pm. There will be a host of giveaways, art, refreshments, live music, spoken-word including an autographed copy of Shelton's debut book. To purchase tickets to "Dreams Bigger Than Texas" Book Launch please visit: dreamsbiggerthantexas.eventbrite.com