Chicago is known for its rich cultural environment with beautiful museums, art galleries and exhibits that can be found all over the city. It takes traditional, contemporary and eclectic collections to fill these award winning museums and arthouses.
I would like to introduce you to Chicago native Richard McNeal – a talented 36-year-old, up and coming artist who creates thought-provoking paintings, sculptures and wearable art. His work is an authentic representation of our culture, capturing the vibe, rhythm, identity and the heartbeat of who Black Americans are.
So often many artists leave Chicago and head to New York in order to get national or international attention. I believe Rick's moment is now. It's his time. It's his season. Great things will happen for him in Chicago and beyond this city.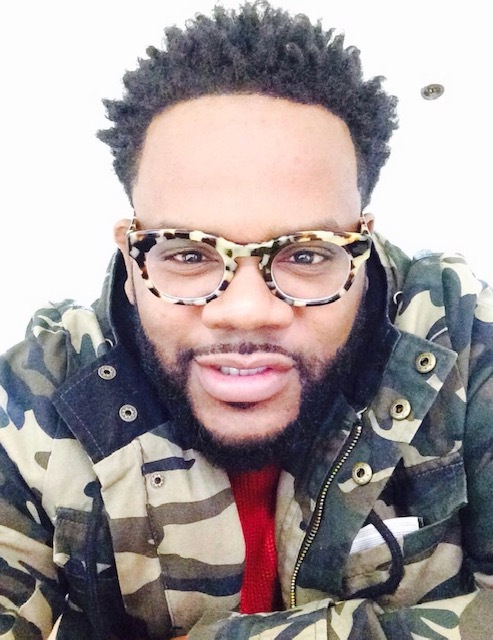 N'DIGO recently sat with artist Richard McNeal and talked about how he got started producing such interesting art and what inspires him to create.
N'DIGO: Where were you born?
Rick McNeal: I was born on the West Side of Chicago and raised by my parents along with two older brothers. I attended Sabin Dual Magnet School and Mather High School on the North Side. I also attended Kentucky State University for a short time.
What did you want to be when you were growing up?
When I was young, I wanted to be a firefighter. Being so young I didn't really know how to convey that into words, so I told everyone that I wanted to be a firetruck! (laughs)
As I got older, I wanted to play in the NFL but that changed. I wanted to be a homicide detective also. Then I switched my career choice again and I wanted to be a lawyer. I felt I had the gift of gab and could talk my way out of anything. I think I would have made a great entertainment lawyer.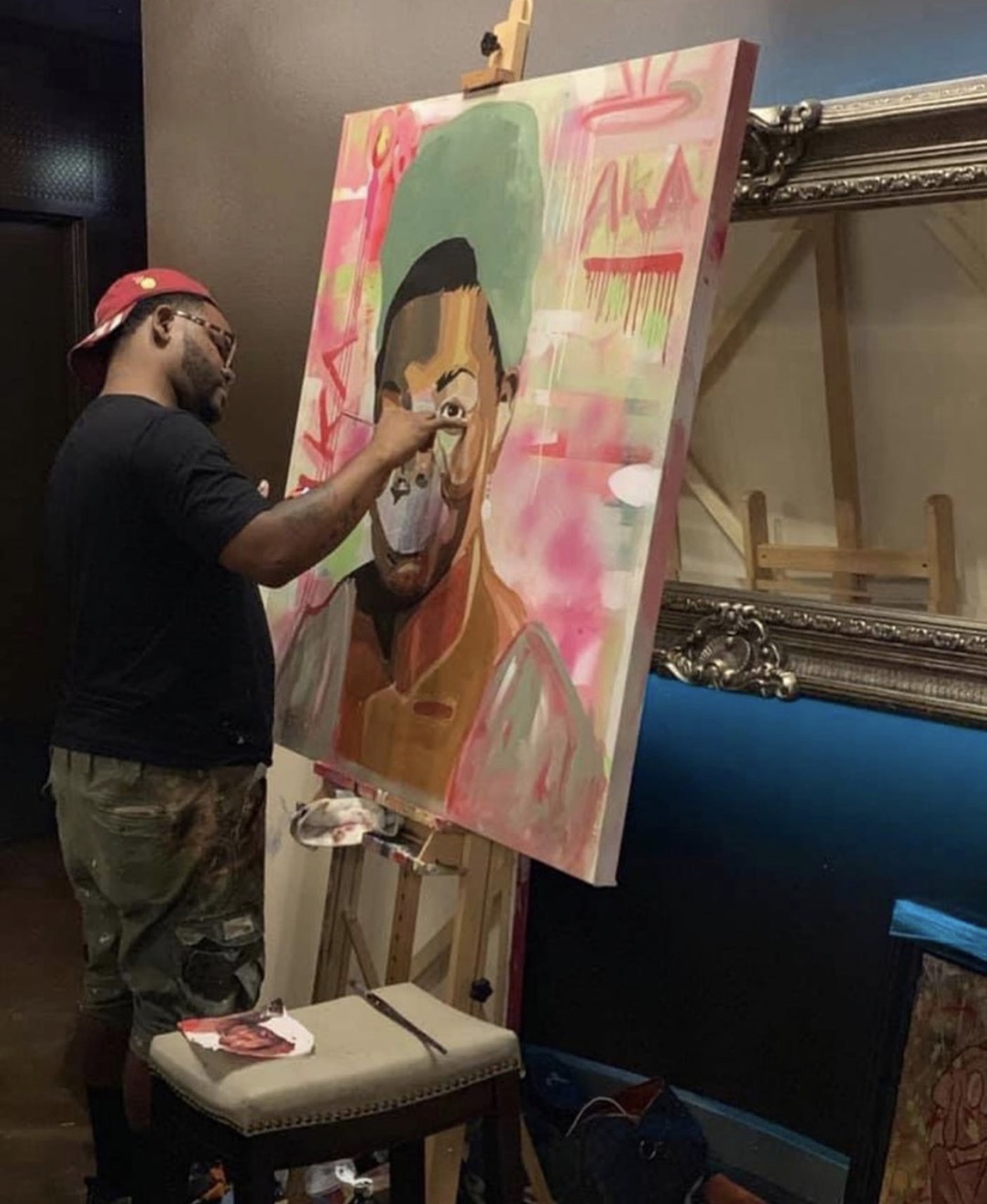 So you recently decided that you wanted to be an artist?
Yes I did. I realized it's my passion.
What inspires you as an artist?
I'm inspired by the freedom of expression that art allows individuals to have. I'm intrigued and inspired by body movement and body posture.
Are you self-taught or did you attend art school?
I'm self taught.
When did you create your first piece of artwork?
I was an accredited artist when I was 12 years old (maybe in the eighth grade). I created my first two pieces of art in grammar school. The first was a chalk sketching. The second was a painting I entitled "Birds Eye" which was recognized by the City of Chicago. The Chicago Transit Authority displayed it on the Blue Line for about eight years.
Did your upbringing influence your work?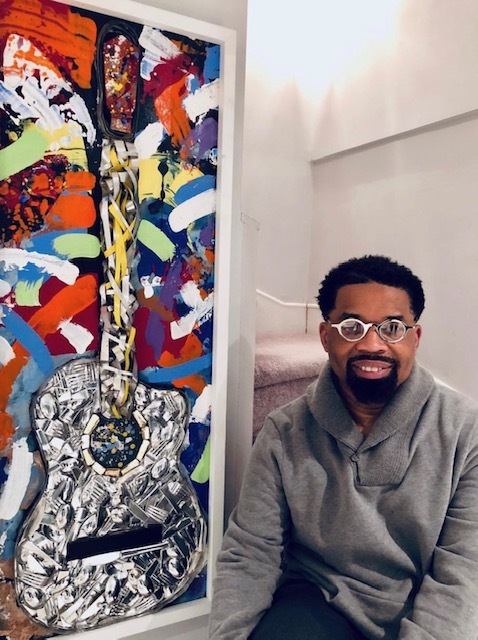 Yes. At a young age my mom noticed that I could paint and draw really well and she sowed into the gift I had inside me. I didn't take my talent/craft seriously until I started attending New Life Covenant Southeast Church. My pastor, John F. Hannah, encourages his members to celebrate the gift that is within. A friend also told me to pick up my paintbrush and see how God would use me, to see what God had for me.
Are there any other artists in your family?
No. I'm the only one.
How did Pastor John Hannah become a buyer of your artwork?
I gifted him a couple of free pieces, but he has sowed into my gift by purchasing two of my art pieces. I also gifted gospel artist Jonathan McReynolds a piece of mine because he plays guitar and is a member of my church as well.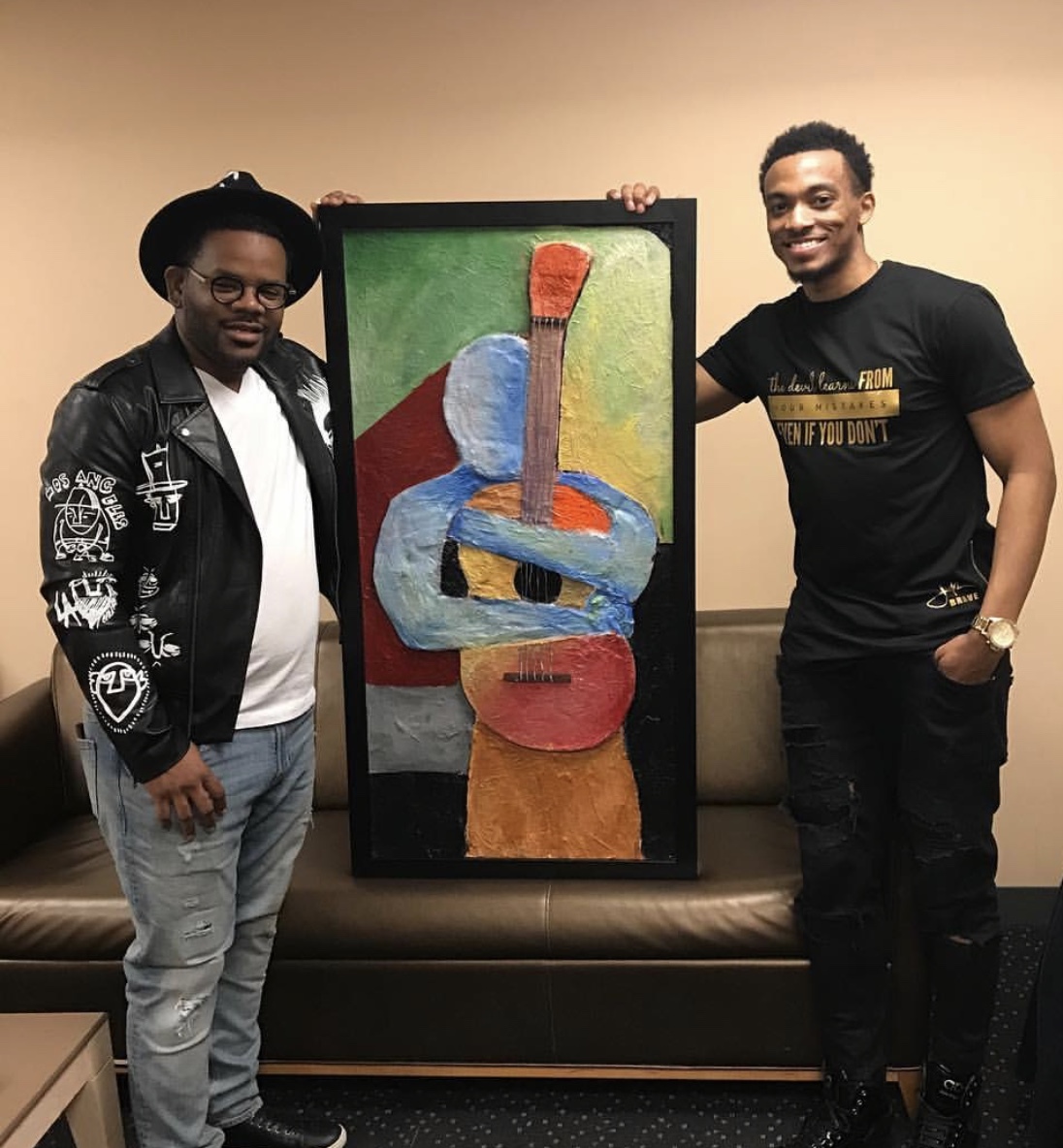 Why are you so passionate about your work?
I'm passionate about art and my work because I'm able to release on canvas what's inside of me. I can show the world what I can't put into words. Art allows me to show my self-expression.
Where does your motivation come from?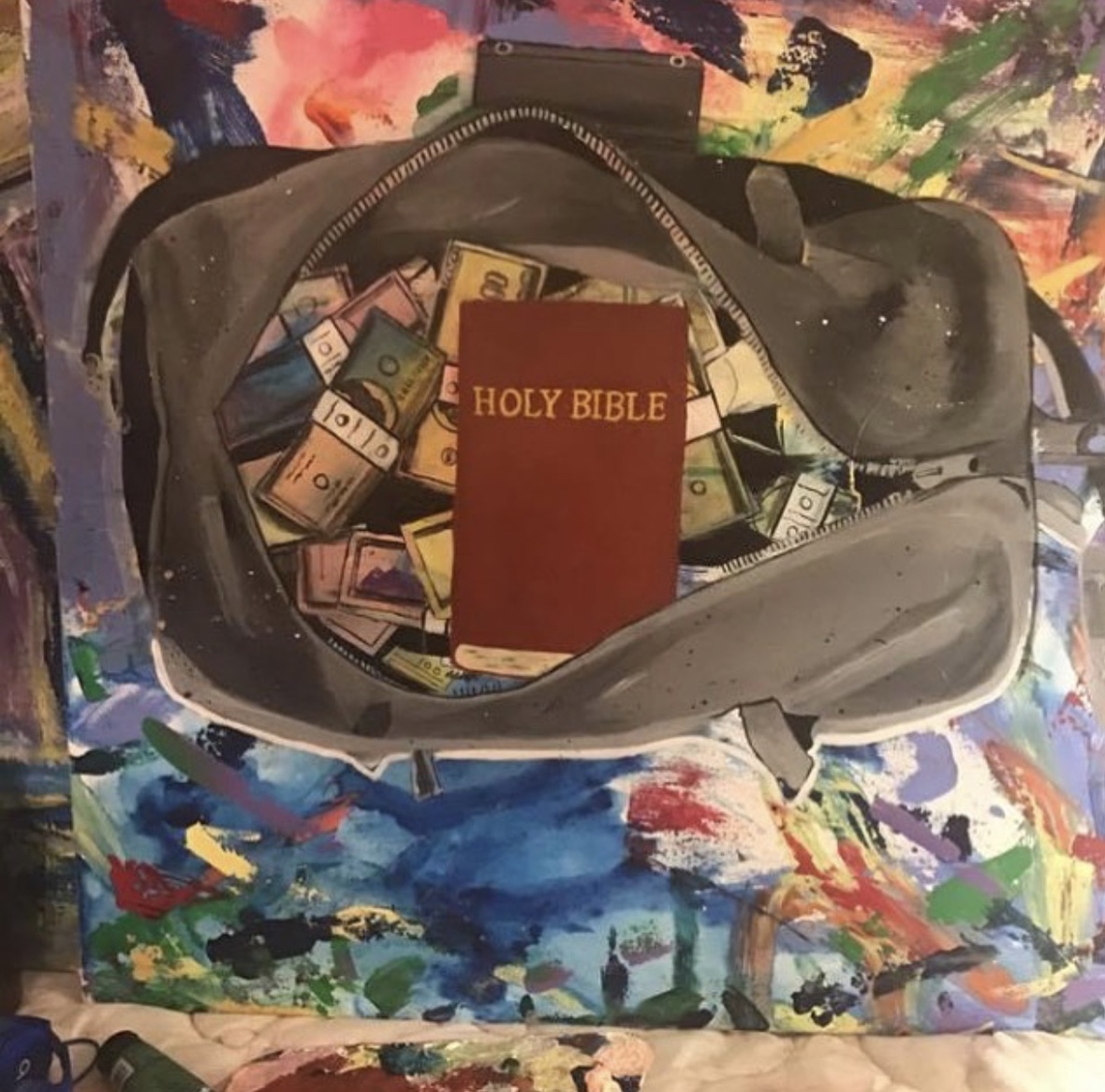 My passion for art solely comes from God. The peace and joy he allows me to receive while I paint shows through my art. It also comes from other artists's creativity. Also, knowing that my art brings joy and excitement to those who come into contact with it motivates me!
Are you inspired by any other artists?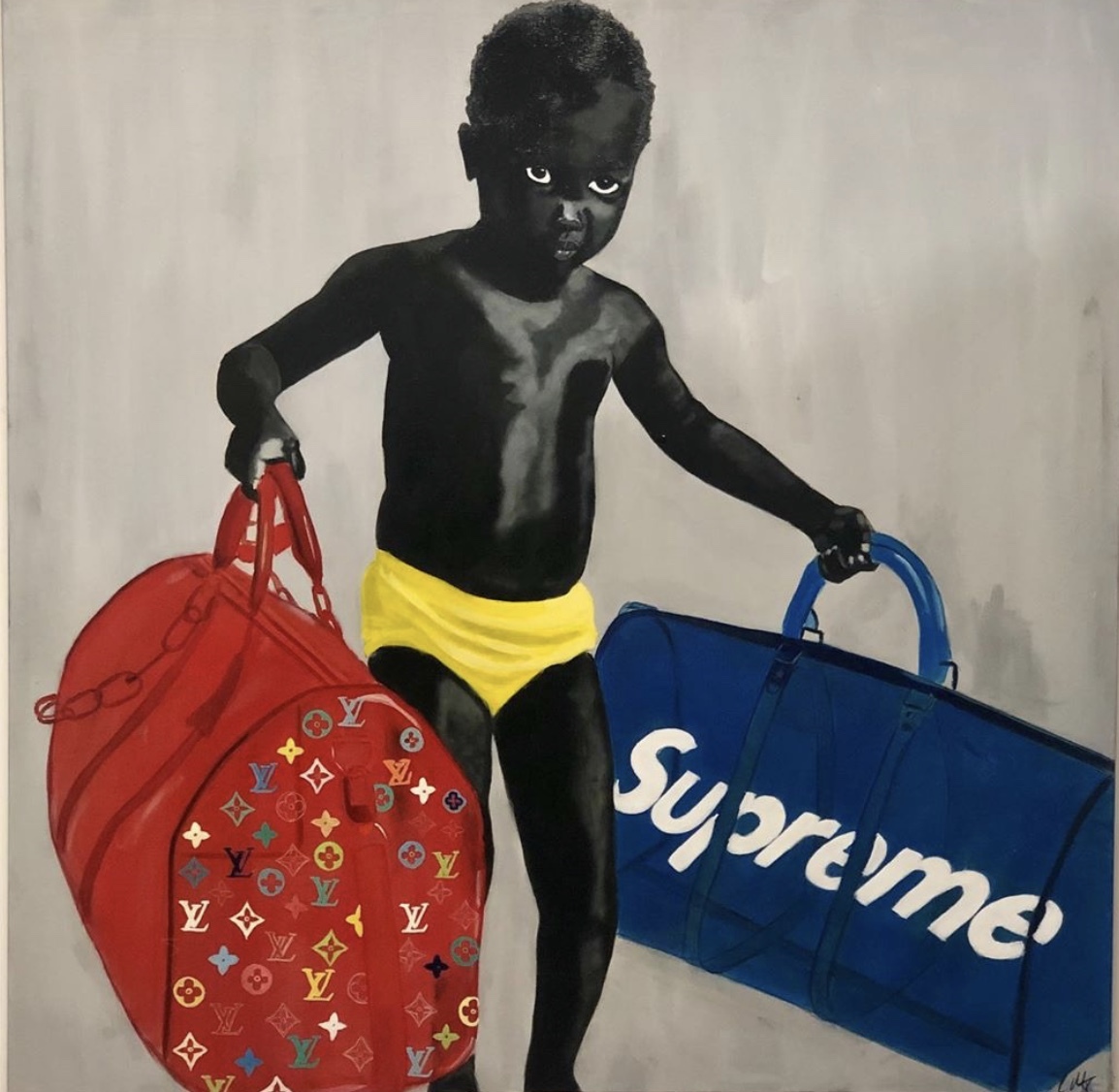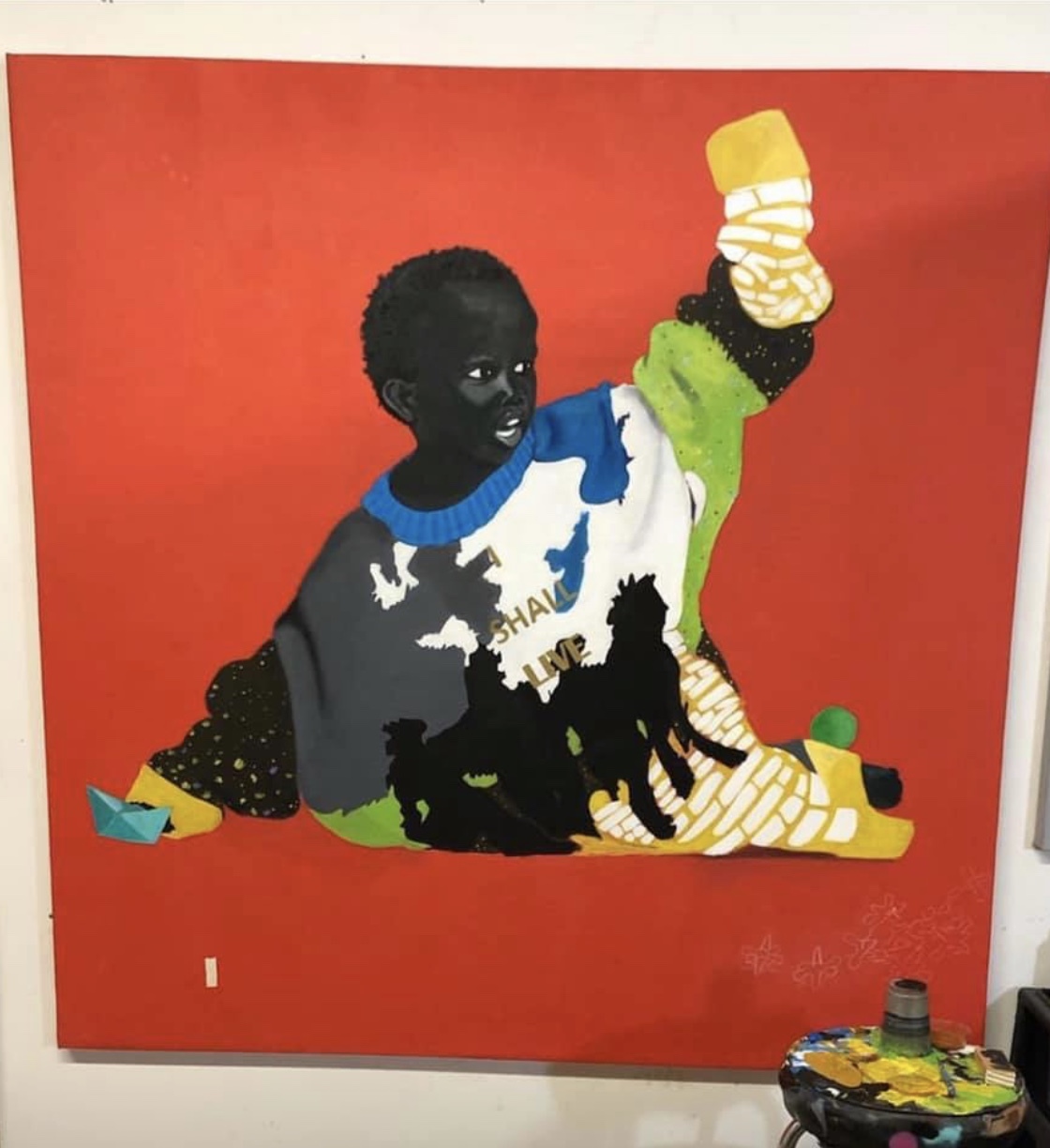 Yes, I'm inspired by American fashion designer Virgil Abloh, the artistic director of Louis Vuitton's men's wear collection. I love his work. I love how he uses colors and the messages within his work. I've been motivated to take a photo of his and turn it into art, adding paint and positive messages.
What your favorite medium to work with?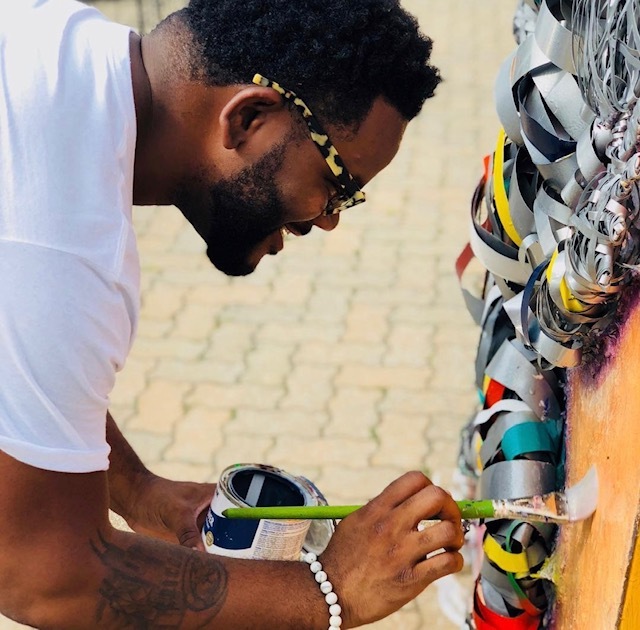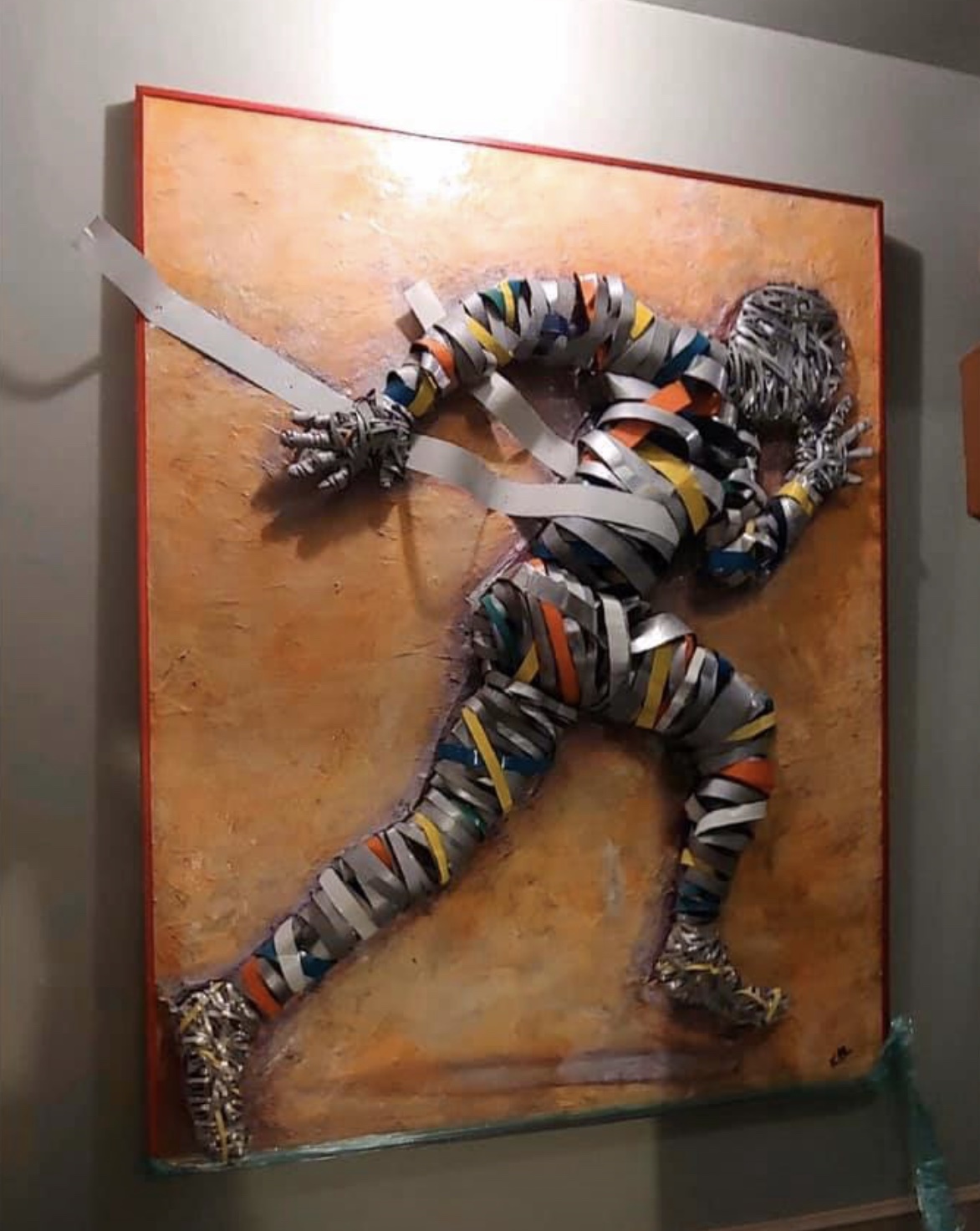 I love to work with acrylic paint and aluminum scrap. I can create eclectic pieces from whatever I add to it.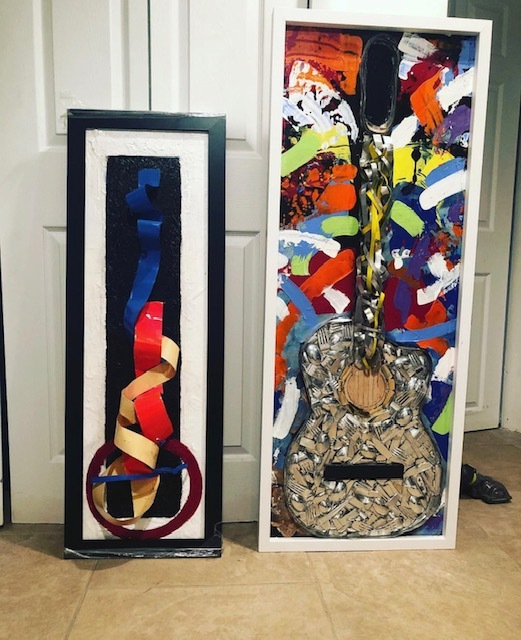 You also create wearable art. How did you get your start doing that?
Wearable art is very new to me. One of the first pieces I did was paint on a purse and people liked it! So now I'll paint on any type of clothing.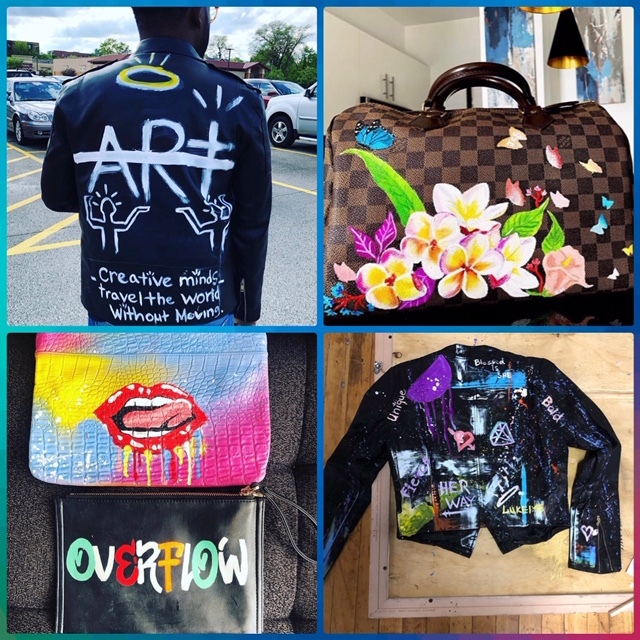 What opportunities has your art created for you?
I participated in the DuSable Art Fest and "Pancake and Booze Art Show" last year. I'm hoping to be included this year as well. I've had two solo shows. I was also blessed to design a blazer for Praise and Worship Artist Todd Dulaney for his live recording last year.
How do you market and sell your art?
Social media is an incredible medium. Facebook, Instagram and word-of-mouth. My art business is called "Riche Rich Arts". I'm working on the website.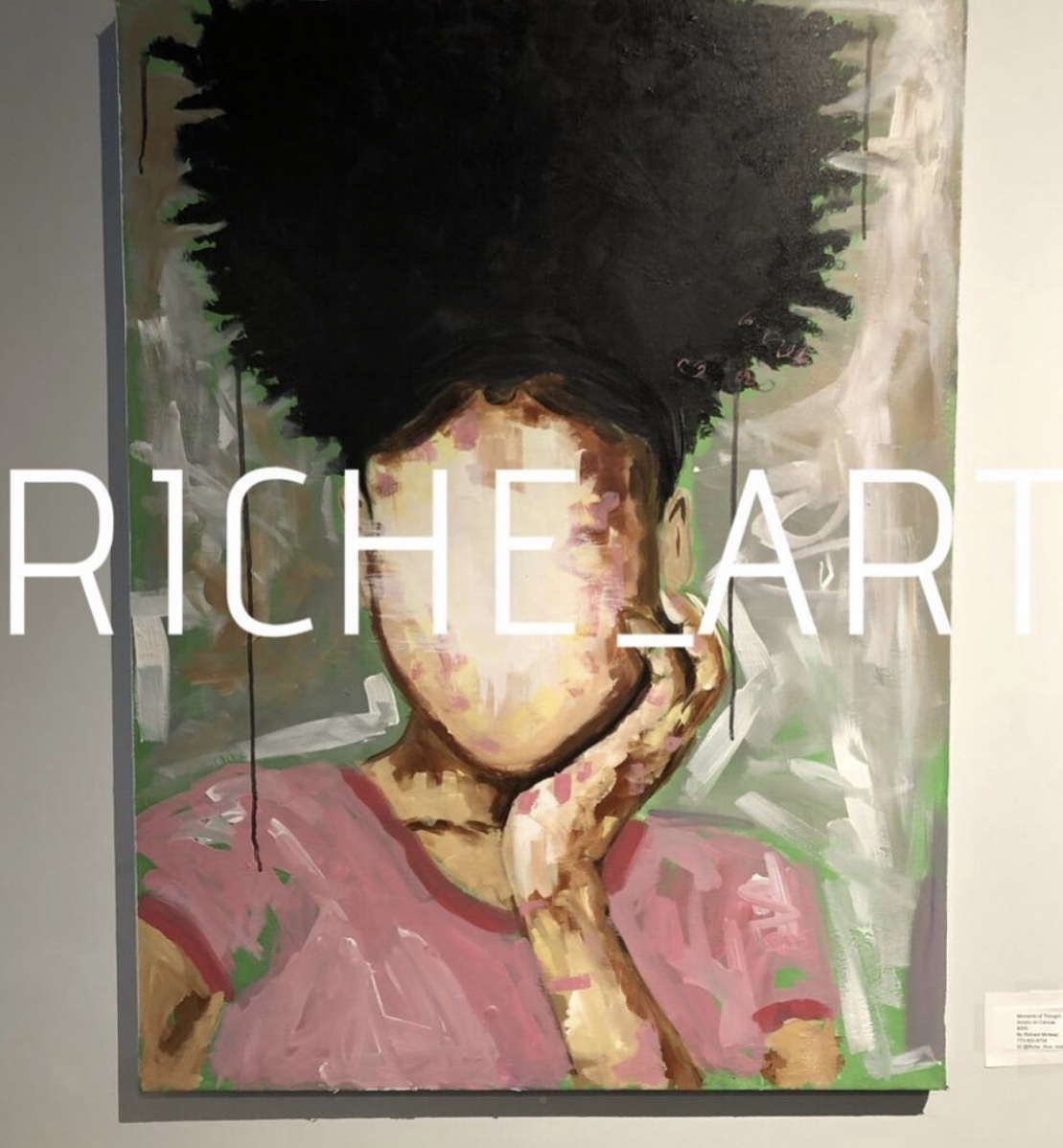 Where do you see yourself in the next ten years?
I see myself being successful and creating and selling art internationally.
What do you do for fun?
Of course, I love creating art. I love to skate and spend time with friends, family, my loved ones.
What's your favorite food?
I love tacos.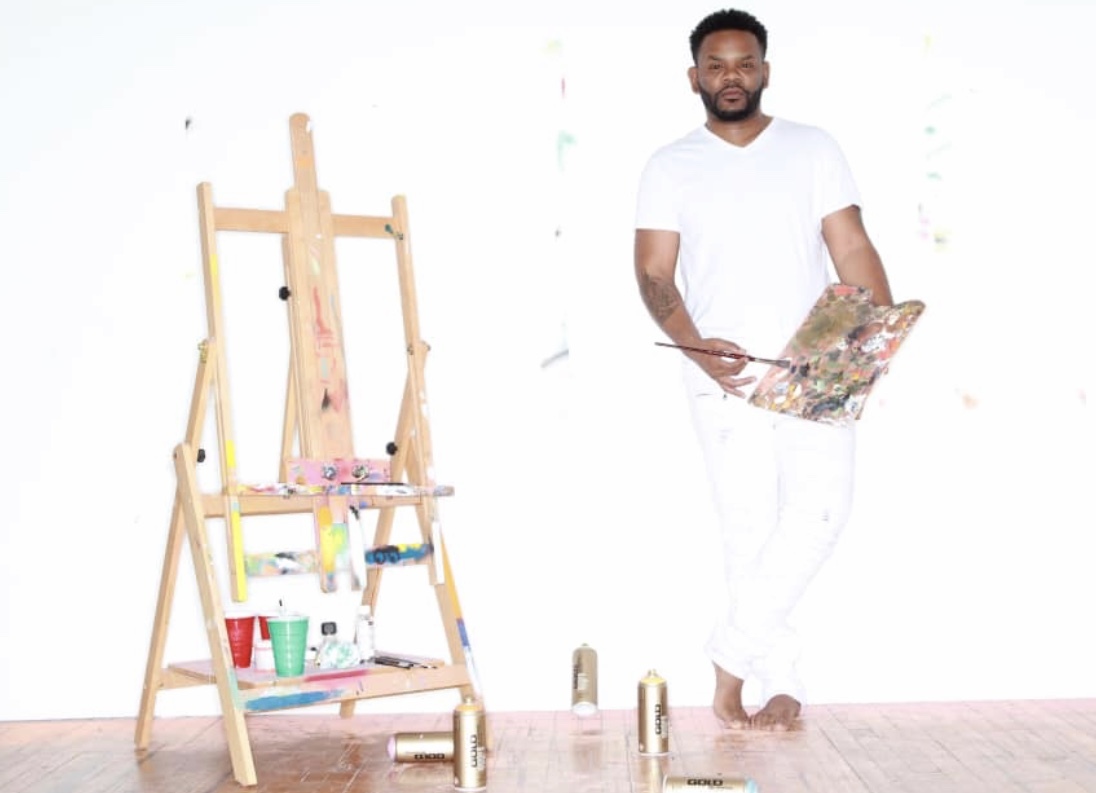 Any quotes of affirmations that you live by?
With God all things are possible…
What advice would you give to young aspiring artists?
Believe in yourself, even if no one else does. Perfect your craft. Preparation plus Opportunity will create Success.
Follow Richard McNeal on Instagram @riche_rich_arts
Facebook Rick McNeal and https://mcnealrichard.wixsite.com/mysite/abstract-art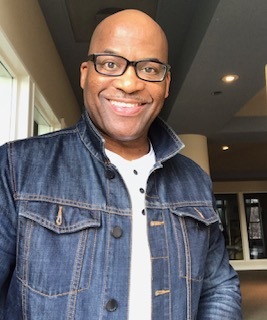 Sylvester Cosby is a Contributing Writer and Digital Editor for N'DIGO.