Designer Cori Davis is quickly making a name for herself in the fashion scene with her cutting-edge, yet sophisticated, ensembles.
The California native and now Chicago resident got her start by making paper dolls in her fifth-grade history class. Once she got to high school and began sewing in her Home Economics class, her path was set. She went on to obtain a bachelor of fine arts degree in Fashion Design from AI Chicago and has been active in the industry ever since.
Cori will present her Fall/ Winter 2018 Mad Max Collection in a dazzling fashion show on Saturday, February 24, at Throop Studios, 1500 North Throop Street in Chicago. Find event and ticket information at https://www.eventbrite.com/e/mad-maxx-collection-presented-by-the-cori-brand-tickets-40173048670.
N'DIGO recently caught up with Cori to discuss her influences, her special inspiration and her latest collection – inspired by a popular '80's movie.
N'DIGO: When did you first realize that you wanted to be a fashion designer?
Cori Davis: It was in my senior year in high school when my peers began talking about college, where they were going and what they were going to study. I have always loved art – painting, charcoal, ceramics, sculpting and anything that allows me to be creative.
One day I saw a commercial on TV about a college where I could earn a degree in fashion design and that's when I decided to go to school for something that I love and something that allows me to express myself.
How did you eventually get your start in the world of fashion?
It started out with family members asking me to make their prom dresses. A lot of times when I go shopping I know what I want, but when I didn't see it, I would make it myself.
People on the street would ask me where I buy my clothes and that's how I have gained a small clientele, which has boosted my confidence as a designer. I am happy that people are interested in what I have to offer.
Who are your biggest fashion influences or idols?
Anne Lowe, the designer that created Jackie Kennedy's wedding dress. Christian Dior because he started his label after the age of 40 and was very successful. The House of Missoni – I love the way the label has been able to keep the family business and I hope to do the same with my brand.
Tell us about your latest collection and the particular movie that inspired it?
This collection was inspired by the 1985 movie Mad Max Beyond Thunderdome. I wanted to show the strength and the femininity of women. Just because a woman is sexy does not mean that she is not strong and bold.
A lot of the details of this collection show that – from high slits to high collars and joggers mixed with lace. I like to play off a masculine fabric and mix it with something a person is not used to seeing together.
Your 8-year-old daughter, Reign, also played a special part in inspiring this collection. Please tell us more about that.
With Reign being on the autism spectrum, she has unknowingly held my hand through this process. She is a very determined girl. She was diagnosed as non-verbal and I was not sure if I would ever hear her voice or see her smile.
I decided at the end of December that I would release my collection. Designers normally work six months out and I kept thinking that it couldn't be done. I did not start receiving fabric until mid-January, so I put this collection together in 30 days. I look at Reign and I know that anything is possible. She smiles every day and the best part is I get to hear her call me mommy.
In your opinion, what are the biggest factors that make a great fashion designer?
Determination, never giving up on yourself, and being a trend setter. Don't chase trends or fads.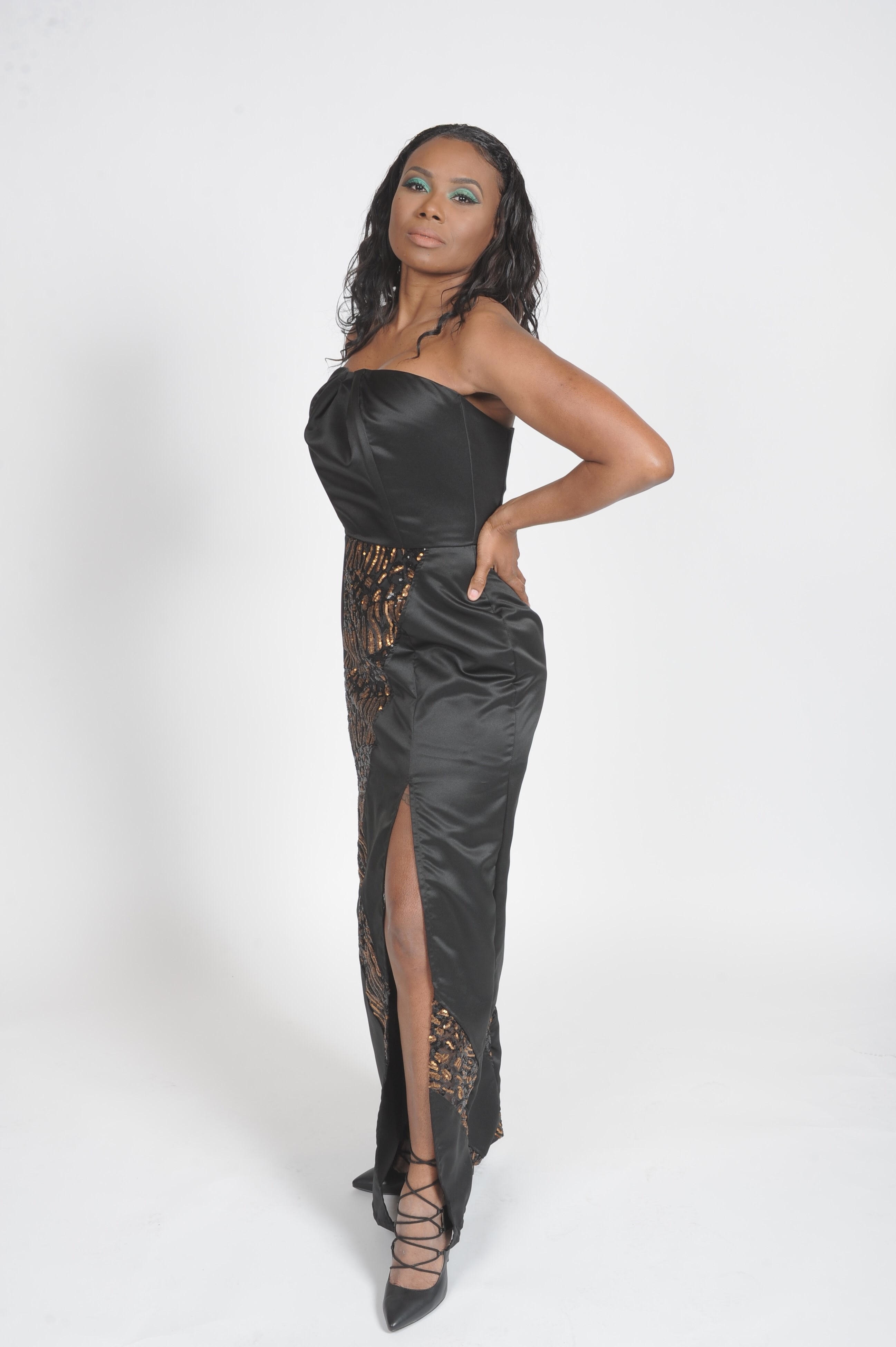 What's something people would be surprised to know about you?
Not many people know that I am a vegetarian.
Name a book that changed or really impacted your life and say why.
The Baby Book by Dr. William Sears. It was like my bible when I had my son. Everything I needed to know was in there.
Favorite quote or affirmation?
"Fashion never sleeps; it only catwalks."
Best advice to aspiring fashion designers?
Protect your work. Believe in your work. Be ready. Put in the work and trust your timing. Don't let others box you in and tell you what type of designer you are. Stay in a creative space and around other creative people. Trust your creativity.
What's next for Cori Davis?
I will be a part of the Style Rivals Competition next month on March 29th. I will be showing a small capsule collection and a few Spring and Summer spring must-have looks.
(For more information, please visit www.coridavis.com.)