Girls Trip
Starring: Regina Hall, Queen Latifah, Jada Pinkett Smith, Tiffany Haddish, Larenz Tate, Mike Colter, Kate Walsh
Director: Malcolm Lee
Producer: Will Packer
Running Time: 2 hours, 2 minutes
Rated: R
(***)
It's no small accomplishment for a movie to deliver positive and uplifting messages while being nasty and raunchy as hell at the same time. But Girls Trip is all that, and laugh-out-loud funny, as well.
The movie involves four longtime girl friends who ran around together as the Flossy Posse many years ago, but disconnected for a bit, and are now getting the chance to reunite at the Essence Music Festival in New Orleans.
One of the friends, Ryan (Regina Hall), is a best-selling author, who along with her husband/business partner Stewart, peddle the kind of "Want It, Wish It, Get It" self-help psychobabble so popular today. Ryan is invited to be a keynote speaker at the Essence Festival, and since it's a free trip, decides to round up her old Flossy Posse friends for an adventure in the Big Easy.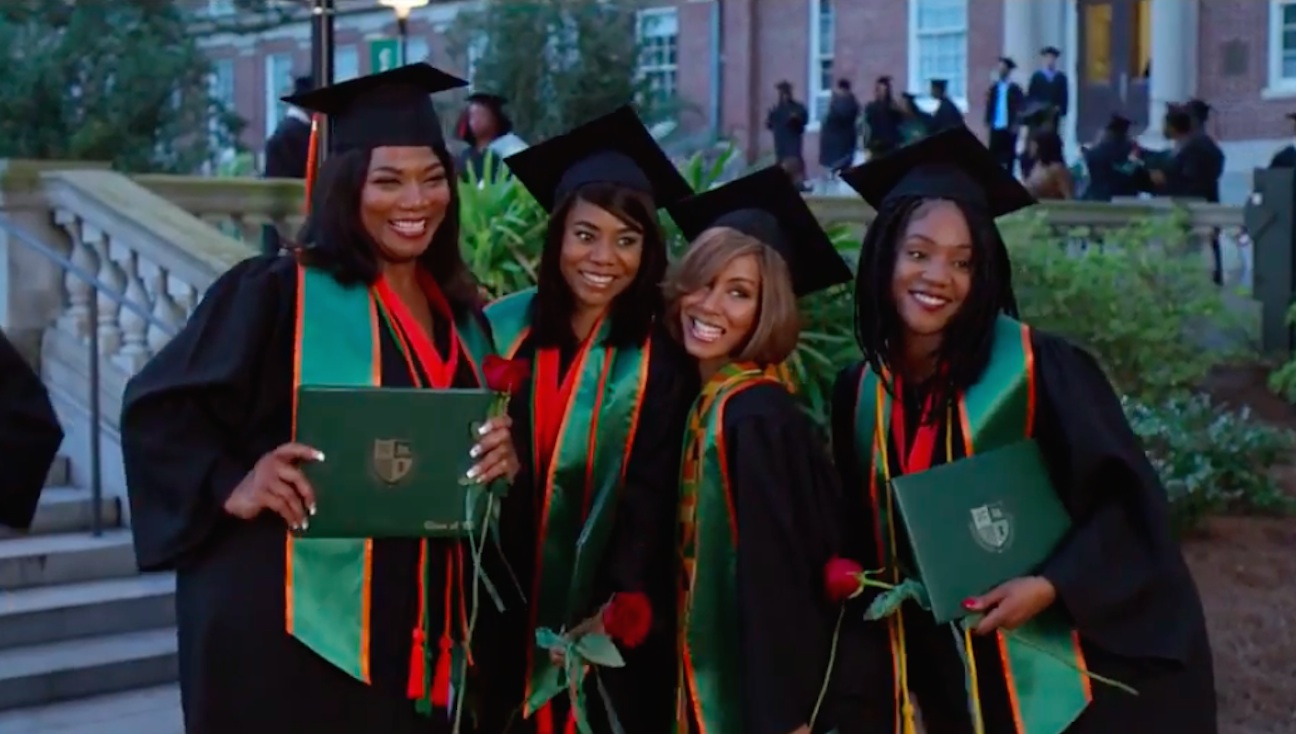 The rest of the gang includes Sasha (Queen Latifah), a journalist formerly serious enough to work at Time Magazine who is now running a seedy celebrity expose website; Lisa (Jada Pinkett Smith), a divorced mother of two so wrapped up in her kids that her own path to personal fulfillment is passing her by; and Dina (Tiffany Haddish); a brash, life-loving freewheeler who refuses to accept that she's been fired from her corporate job the Friday before the Essence trip and tells the human resources department she'll be back next Tuesday.
Not coming in on Monday is an excellent idea, as all four of the women will need an extra day to recover from their nonstop weekend of brawling, drinking, drugging, sexing, partying, breaking up, making up and rediscovering the values of friendship and sisterhood.
This is a competently told story acted by a capable cast playing a quartet of main characters made more interesting by the dynamics that exist between them within the group.
Yes, because of its cast and subject matter, and setting even – the Essence Festival – this is a chick flick, but it's as pleasant for men to sit through as the macho action flicks we like our lady friends to attend with us. And while the term "romantic comedy" could apply here, too, the movie is only lightly seasoned with the rom, and very heavy on the com – and produces at least half a dozen explosive laughs.
Much of that comes from actress Tiffany Haddish, who plays Dina and absolutely steals the film. Haddish has the aggressiveness and comedic chops to force the comedy right to the edge – which is why the movie has an R rating – without letting Dina slip from being a full-blown original woman into an eyes-rolling, hands-on-hips stereotype.
Haddish has acted in several episodes of Real Husbands of Hollywood, The Carmichael Show and the movie Keanu. She's a fresh, spontaneous talent and the glue that holds the Flossy Posse together in Girls Trip and should be nominated for a Best Supporting Actress award for her work here.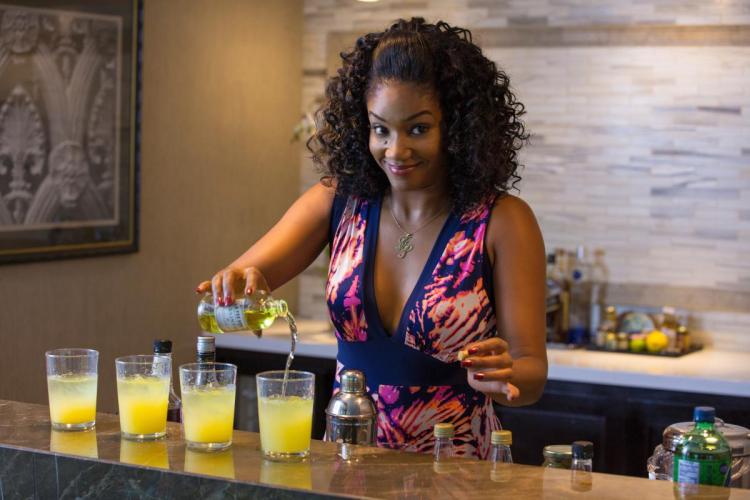 Much of the comedy backbone for the movie also comes from writer Kenya Barris, who created the hit ABC-TV sitcom Black-ish, and was also a writer for The Game and America's Next Top Model TV shows.
Further comedy savvy is added by veteran director Malcolm D. Lee, who helmed Scary Movie 5, the underrated Soul Men with Samuel Jackson and Cedric The Entertainer, The Best Man rom-com movies, and of course, the uber classic Undercover Brother, one of the funniest movies ever made.
Pulling it all together is producer Will Packer, who is a real FUBU filmmaker – he makes movies For Us and By Us, and makes tons of money off those films, to boot.
In producing low-budget, high-profit movies like the Ride Alongs, Think Like A Mans, Straight Outta Compton, Takers, No Good Deed, etc., Packer, still only 43 years old, is one of Hollywood's unqualified success stories.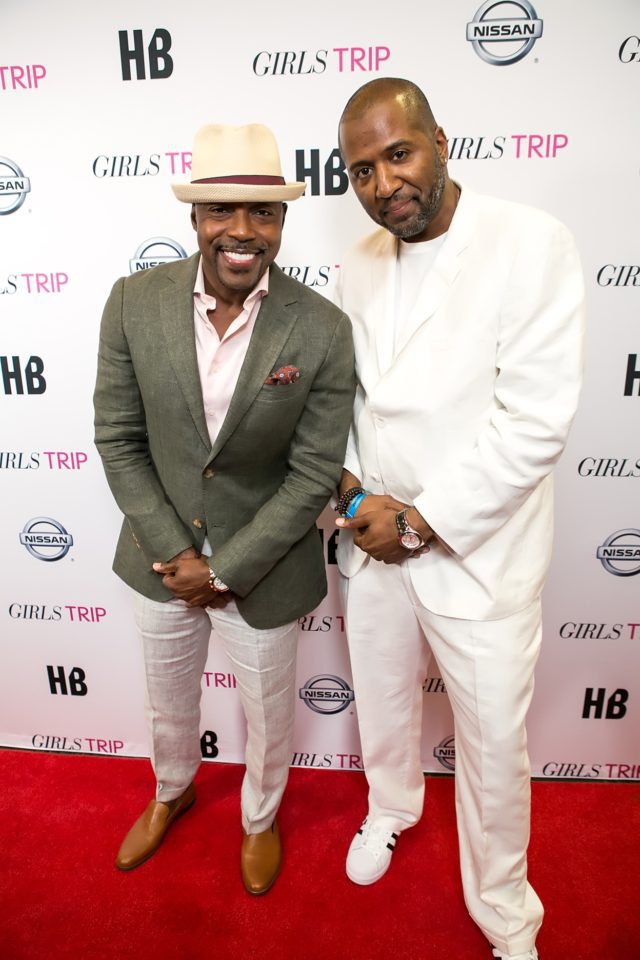 Packer's key is that he doesn't make "Black" movies per se; he makes universal stories about the human condition, and just puts a lot of Black faces on and behind the screen to tell them. His characters could be played by any race of actor and be just as compelling.
Same as Hollywood, which doesn't make "white" movies per se; it also mostly films universal stories and just happens to populate the screens and behind-the-scenes with white people, when any race of actor could play those characters.
But Hollywood makes movies mostly for white America, and though he'd probably never say it, Will Packer makes movies for Black America; he seems to dig giving us quality movies that we can enjoy while inviting other ethnicities to ride along, if they wish.
At the advance screening of the movie upon which this review is based, the audience was predominantly Black women young and older, who seemed to have a wonderful time enjoying a movie that appeals to their interests (which is other Black women!) And the spontaneous comments coming from these ladies in the audience were almost as funny as some of the lines being delivered on screen.
Girls Trip is a solid piece of entertainment, well worth your time and money, and introduces you to what might become your next new favorite pastime – a little thing called "grapefruiting!"