John Legend told an estimated crowd of 16,000, "I want this to be the best night you ever had", as he opened the Ravinia Festival season on Saturday June 10 with his Darkness and Light tour.
John Legend's live show is a mixture of a mellow evening with a glass of fine wine, romance and an intellectual message. That message was about love as he serenaded the audience with songs such as Ordinary People, All Of Me, Love Me Now and Green Light.
Legend defined the love theme as he began to sing his song Overload. "I want us to get lost in love. Sometimes lost in love overflow, bathe in love, turn off the rest of the world." Legend told concert goers. His voice was met with his adroit piano skills and a stellar video backdrop that described the evening's message of love.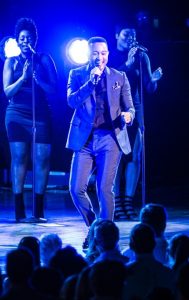 For Legend, being lost in love did not just mean love on a romantic level. Love also meant having a love for family. Fans got to witness intimate home videos of his wife Chrissy Teigen and their daughter, Luna. Legend loves his family and is happy to be a father. He shared this love through a song he wrote for his daughter called Right By You. "I want my daughter to grow to be a leader in this beautiful world. As long as I'm here, I'm here for her," Legend said introducing the song. While singing, video clips aired from his daughter's first birthday as she pushed the family dog on a buggy and colored with his wife.
Legend also defined love as having love for humanity. Love for all people regardless of race, religion, and sexuality was evident in the singer's message. He referenced Dr. Martin Luther King's mission for equality as he performed his signature song Glory, from the movie Selma.
Legend said, "I will keep marching for sure, I refuse to give up and I hope you won't give up either."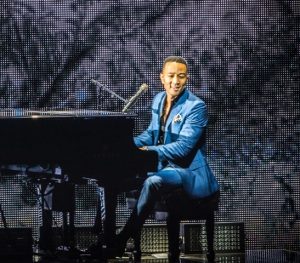 Other popular Legend songs heard throughout the night included, Tonight (Best You Ever Had), You and I, and his 2004 debut single Used to Love You.
Grammy nominated singer Gallant, known for his hit song Weight and Gold, was Legend's opening act. Gallant's falsetto is reminiscent of singer Maxwell.
Legend continues his concert tour with appearances in New York City (June 27 -28) and Essence Music Festival in New Orleans (June 30). He will begin the United Kingdom leg of his tour in September.
Ravinia will also feature Legend's song collaborator from Glory, rapper Common on June 24, Tony Bennett (August 4), Santana (August 11 – 12), Aretha Franklin (September 3) and Smokey Robinson (September 15) and many more. Go to Ravinia.org for ticket information.