Written and directed by David E. Talbert (First Sunday, Baggage Claim), Almost Christmas tells the festive story of a beloved patriarch who asks his family for one gift this holiday season: to get along. If they can honor that wish and spend five days under the same roof without killing one another, it will be a Christmas miracle.
Produced by Will Packer (Being Mary Jane, Ride Along, Think Like A Man), the film stars an all-star cast that includes Danny Glover, Kimberly Elise, Romany Malco, Gabrielle Union, Nicole Ari Parker, Omar Epps, Jessie T. Usher, John Michael Higgins, and DC Young Fly.
N'Digo got a chance to sit with two the all-star film's cast members in veteran actor Omar Epps (ER, House, Juice) and newcomer DC Young Fly (Nick Cannon's Wild'n Out) to discuss the film and their respective career paths.
What was the atmosphere like on set with such a big talented cast?
Omar: Honestly, the atmosphere on set was just as you saw in the film : we were just having fun. Laughing, making each other laugh, etc. Even the heartfelt moments that you saw, people got really into them and made them convincing. The energy on set really carried through the screen because we really had as much fun filming as we appear to have in the film.
How about for you DC with this being your first big feature film?
DC Young Fly: It was just a blessing to be around all these experienced actors and actresses. I was able to soak up the game from them while acting alongside them. I mean we're talking Danny Glover, Omar Epps, Mo'Nique, Kimberly Elise, you know? I'm 24 years old and these are people I grew up watching in movies so to look up and actually be IN a film with them was nothing but a blessing
Omar, next year marks 25 years since your debut film "Juice". How have you been able to maintain the consistency in your career without being typecast?
Omar: Like DC said, it's really just a blessing. Almost everyday I just sit and think like 'Wow, I get the opportunity to do what I love to do and feed my family.' That's what keeps me grounded and humble. As far as staying consistent I just get up and get after it. At the end of the day we all wanna make our mark on the world whether it's journalism, carpentry, medicine or what have you. I'm just appreciative now. When I was younger things were happening so fast. I mean I was humble and appreciative then, but it was surreal to me. I was in the same boat as DC back then…I mean I was like 19 when we shot "Juice". I had En Vogue posters on my wall and then like a month later I'm in bed (in the movie) with Cindy (Herron) from the group like this is CRAZY! But yeah now, I just appreciate each and every moment and all the love I get and hopefully I am able to return that love.
Did you know growing up that acting is what you wanted to do in life?
Omar: Absolutely. Since I was 12 I knew this is what I wanted to do. I've been writing my whole life. In my mind I was gonna be like James Baldwin and Sidney Poitier, who is my acting hero. Poitier is the Michael Jordan of acting to me. Denzel is Kobe and maybe one day I'll be LeBron. *laughs*
DC: At first I was really into doing music but I knew I could act. I did a few plays and then the love of it just grew. Then I knew I wanted to act but I didn't know how I was gonna go about making it happen. But check this, this is how I knew for sure I had talent for acting. In my 9th grade drama class we had a assignment where we had to recite two monologues. I was able to remember one monologue but I didn't have a second one. Then I just decided to make one up. There are so many monologues out there, who's to say it aint a real monologue? So I did the first that I had memorized and they said it was good and then asked for my second one. So here we go. I made up the second about being in the civil rights movement. We were marching and a child got hit in the head with a rock and I really went there and acted it all out dramatically. By time I couldn't think of anymore dialogue I stopped and everyone in the room had their mouth open and then they did a slow clap and gave me a standing ovation. I got a 75 on the real one I recited and got a 98 on the one I made up and that's when I knew that this is what I'm supposed to be doing.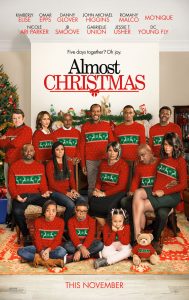 What were your initial thoughts when you first got the script for "Almost Christmas"?
DC: First of all, it was thick as hell. I was like "This is A LOT!" *laughs* But of course you have to read it all, not just your lines because you gotta understand the story and the characters, etc. But once I read it I loved it and was just really thankful for the opportunity to be a part of it.
Omar: I'm friends with both (writer and director of the film) David E.Talbert and (film producer) Will Packer. I had had conversations with both in regards to working together at some point and they came together to do this film and sent me the script and I was blown away. I immediately hit David and told him this was by far his best script that I've had a chance to read. I was just so happy and proud of him because it's really elevated storytelling. It's a lot of nuances and complexities with issues like drug use and homelessness and marital issues all peppered in but it all has a rhythm to it where it has you laughing but then it draws you in with the deep moments and I just thought it was all really incredible. Then Will hit me up like "Yo, we want you to come onboard" and I was all in. It's such a story for right now, but it's timeless at the same time. We need this type of filmmaking and storytelling because it's really rich and thorough. And it's for the whole family.
Now DC you got your start on social media sites like Vine and YouTube. Talk to me about coming up through those platforms and making it to this level as far as entertainment?
DC: It's all about utilizing the tools you have to get to where you want to be. In my case, I was able to use social media to elevate myself. And social media is still popping, you know? But I cant just be ON social media and that's it. There's no room to grow. I'm trying to show the world that there's more to it and the possibilities are endless. To some people, they see how many followers I have on social media and feel like I made it just off that number. But to me, I'm sorta using those followers to elevate myself so to speak. Now I'm on TV. Now I'm in movies. So I'm using those followers and bringing that built-in fanbase to support me in these endeavors. I'm growing now. Who's to say in the next few years I wont be behind the camera with Will and David sitting with my legs folding directing people? So you gotta use it all as a lesson and stepping stone. I'm just using it to grow and make myself better at what I love to do.
Omar: And that's a key thing for these young kids. That's really profound what he just said. A huge number of followers wasn't an end destination for him. That was just a stepping stone to elevate and get to the next level. A lot of young kids and artists get to a certain level of popularity and they approach it as if that's the end game. t's like that's a part of the movement but there is more to have. You gotta go higher. Like as far as comedy, it's easy to be funny in a 7 second clip. You can master that, but what if you gotta be funny for an hour in front of a room full of people? So it's about reaching new levels and to me the way DC's career is going is sorta like the template for how to start on that social media level and begin to go higher from that to "Wild'n Out" to a major motion picture like "Almost Christmas". It's really dope to me.
What's your take on the on-going debate about getting black films made and the people actually supporting the film when it hits the theaters?
Omar: It's a challenge because at the end of the day, and I've been saying this for years, but these studios don't care about nothing but profit. But you also have to sorta deconstruct how the game works and how they look at demographics of people. They look at everything. This demographic spends x amount of money on this and xyz. But when it come down to the movie game, it comes down to good stories, it comes down to great marketing. Like Will Packer is a master marketer. Just like when Tyler Perry got on, most of the movie business didn't get it, right? But he knew he had an audience and when they put it out, the people showed up to the studios surprise. Now ten years later he's worth like a half a billion. So there's not really just one answer but nucleus is the story and the storytelling. Once you get a good story, then you can start the politics of who the execs of the film will be and all that. But these days it's a lot better with all these platforms you can literally make something happen without having to use the studio system.
What's something that fans would be surprised to know about you?
DC: People probably wouldn't believe it from my persona but I mediate a lot. I'm a big believer in the power of mediation.
Omar: I don't watch a lot of movies. I've never been a big film buff. I got a friend that we call "The Encyclopedia" because he can name every movie from 1940 to now *laughs* But I'm more into historical stuff and documentaries than movies.
What's next for you guys?
Omar: I have a show coming out on the USA Network pretty soon called "Shooter" with myself and Ryan Phillippe. Paula Patton and I just wrapped a movie called "Stranded". It's a dope suspense thriller about human trafficking. Other than that I've been doing a lot of writing and selling scripts.
DC: I'll be doing more stand up stuff. Working on a few independent movies as well that I'm really excited about because I'll get to show my growth and what I've learned coming off of doing "Almost Christmas" I really feel like the sky is the limit for me.
Almost Christmas opens in theaters nationwide on November 11th. For more information on the movie please visit www.almostchristmasmovie.com