Folks say there aren't many nice sit-down restaurants on the South Side of Chicago outside of Hyde Park, specifically in Black neighborhoods, specifically that are Black-owned. And folks are generally right.
But there are a few, and Norman's Bistro in Bronzeville is one of the best of them.
Located on the corner of 43rd and Ellis at 1001 East 43rd Street, this congenial eatery owned by community fixture Norman Bolden is the equivalent of most good downtown restaurants in terms of delicious food, quality service, convivial ambience – and yes, even competitive prices – but without the logistical hassle of dining downtown.
Norman's Bistro serves what Bolden calls "inventive American Creole comfort food with a Brazilian twist." Chef Robert Blanchard says the menu has "a lot of spice, grilled meats, baby backs, T-bone steaks, island marinade. It's taking a traditional food, putting a spin on it and kicking it up a notch."
Bolden adds, "American Creole with a Brazilian flair speaks to the New Orleans concept of the wonderful chicken shrimp and lobster gumbo that we're so popular for and has been featured on 'Chicago's Best.'"
On the "Chicago's Best" show, Chef Robert said, "The gumbo flies out the window here," as he made a batch for host Brittney Payton. "It's not traditional New Orleans style gumbo, so I hope they don't get mad at me down there."
His mixing pot included chicken chipotle sausage instead of traditional andouille, liquid smoke for a barbecue flavor, chardonnay wine, a couple of shots of Jack Daniel, and corn, which Blanchard loves. He even puts corn in the restaurant's greens, along with diced tomatoes and onions.
Norman's Bistro has also been featured on the popular PBS program "Check Please!" and the web TV program "The Soul Salon," where Blanchard made another of the restaurant's signature dishes – Caribbean lamb chops marinated in rosemary and merlot, then cooked over a flame grill with glazed peppers and zucchini and served with the aforementioned greens.
"It's food so good and succulent, it makes you want to wave your hand!" chirps Bolden, the effervescent owner. "That's the Brazilian twist that we speak of. It uses many vegetables of color that give the food some flair. Even if you have a dish of lasagna, it has lots of color in it."
Bolden says that it's the cooking team that brings it all together and interestingly notes, "No one on the team is Creole; they just learned how to do it. Our culinary team is a group of folks that have studied culinary locally, yet they have the ability to create dishes that would be noteworthy across the country."
"What I strive for with the food is for the first bite to take you away," Chef Robert told 'The Soul Salon.' "The flavor should explode and blow your mind to where you just sit back and go, wow. We strive for the wow factor."
Among customers, the restaurant is noted for its seafood chili, duck burgers, salmon, Creole collard greens, Caribbean bean wraps, home made corn muffins, fried string beans, lemon drop martinis and Sunday brunch.
Cheers, Norm!
"It's all comforting to your palate, as well as your soul," Bolden says. Comforting, indeed, is the key word to the entire entity that is Norman's Bistro, a place Bolden calls "fun, comfortable and unpretentious. Many people reference that it's like home," he says.
Chef Robert calls it "an urban Cheers," like the iconic TV show where everybody knows your name. "We have our own 'Norm' here," the chef joked, "and everybody knows everybody. It's a great meeting place." And they'll even make you a pizza to go.
The 100-seat dining room is immediately adjacent to a bar area that holds about 45 people. The dining area has a widescreen and the bar two separate TVs, so there's often foot traffic in between the two, especially when sporting events or shows like Empire are on.
Customers may be dining while a chorale is singing or a live band is playing or a deejay is spinning in the bar room, so the whole joint is interactive and not too many stay seated during the duration of their visit; there is movement to and fro, which creates a relaxed and festive atmosphere.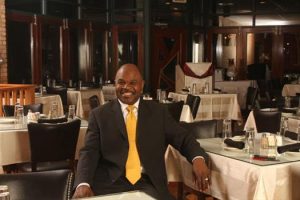 That is exemplified by special celebratory events such as annual Fat Tuesday Mardi Gras parties complete with a Second Line breakout, Kentucky Derby viewing parties, where diners come hatted out and drink the requisite mint juleps, and of course, Superbowl parties.
But you're not getting all of this on the cheap; Norman's Bistro is not a two-bit operation. It's not expensive though, either.
"The average price of a meal including entrees, dessert, cocktails for two is around $50," Bolden says, adding, "You'd pay that anywhere right now. This is not a fast food place and our prices are equivalent to anybody's. People may come in and shirk, but once they have the meal, they see the value. They go downtown and eat food for this price that doesn't taste as good as it does here."
A Popular Destination
That check price point kind of defines the restaurant's clientele, which Bolden describes as "high-endish, not just folks coming in to get a drank."
He explains that because of the restaurant's location, it is what he calls a "destination." The neighborhood of Kenwood Oakland in which the bistro resides is at the end of the city before you get to the lake.
"We're off the beaten path, this is almost a dead end, so you have to be coming to Norman's to come to Norman's," Bolden says. "It's not like you're just meandering around or accidentally passing through on the bus. When you cross Cottage Grove, you have to know where you're going and be going somewhere specific.
"I think the larger percentage of our customer base comes from outside of the immediate community, so people travel to come to Norman's. That's a good thing. People make their way down here to 43rd Street because they enjoy what we offer."
The net effect, according to Bolden, is a loyal and consistent clientele. "We have people that this is home for, very much so," he says. "People who are here every night for their dinner, and many marriages have come out of Norman's Bistro, we're proud to say.
"We're not always bustling and turning tables at will, but we have a quality clientele that enjoys the experience of what we provide them and that's okay. The clientele kinda manages itself. I'm pleased with that because Norman's is not trying to be everything to everybody. We know who we are, we know our brand and we know our customer."
Community Roots
And for the most part, the customers know Norman. Bolden had a 25-year sales career with WGCI Radio beginning when he was an 18-year-old intern with the station through the CEDA program while he was at Calumet High School.
As an intern, he mailed out WGCI Card of Gold applications and did it so well that station honcho Marv Dyson hired Norm as a mailroom boy/messenger, gave him a brand new, two-tone blue 1981 Chevette with a gas card to conduct his messengering activities, and the station paid his college tuition at Northeastern Illinois University, where Bolden earned a bachelor's degree in urban planning and history.
"That was probably the best position that a young person could have. Being in the mailroom taught me every aspect of that company and I also learned to navigate throughout the entire city being the messenger boy," Norm recalls. "It was a foundation and that foundation really centered me in a huge way so that there was no looking back."
Norm left radio to pursue his entrepreneurial ambitions and uplift his community. In addition to the Bistro, he owns Room 43, a private event facility down the street that offers some of Chicago's finest jazz on Sundays from the Hyde Park Jazz Society and Rat Pack parties on Wednesdays.
Bolden owns the entire strip building the Bistro is located in on that block of 43rd Street at 1001. There's an art gallery next door, a Ft. Smith women's boutique at 1005. At 1007, there's a salon, at 1011, there's a space for popup events and adjacent to that, two young ladies developed a youth initiative called the Dream Center at 1013 East. It reaches teens with a sports interest, but it has an academic focus. These operations constitute the ground tenant base and there are office suites on the second floor.
What's so inspiring about Norman Bolden's story is that he made a conscious decision to try to improve his community by placing his businesses there. Norm was born and bred right there on 43rd Street (at Lake Park) where his businesses are.
"This is a community that I love in so many ways," he explains. "My father was a Chicago fireman who had the 24 hours on, 48 off, so it allowed him to have a whole nother life and career. When he was not at the firehouse, he had a business here; what is now Room 43 was my father's TV repair and record shop – the Royal Flush TV Repair and Record Shop. He owned a pool hall down the street as well.
"So this community is legacy to me. The building is legacy. It's what I know. I've been here all my life. I live now in the house that I primarily grew up in.
"Fortunately, we have been very respected in the community," he continued. "I'm a servant of the community, I'm very involved." So much so that Bolden has unsuccessfully but cheerfully run for alderman of his ward (the 4th) several times.
"But I reach out to every segment of the community – the good, the bad and the ugly – and hence, we've had no incidents with the businesses," he says. "But this is not generally considered a bad area anyway, not like some others. It's really a wonderful little safe haven, I want to believe."
Built To Last
Norman's Bistro will be six years old in October, which puts it in a great spot. Restaurant studies and statistics repeatedly show that 90 percent of independently owned restaurants fail in their first year and that the average lifespan of most restaurants is five years.
But, if a restaurant survives past five years, the same studies show that 90 percent of them will go on to last for 10 years or longer, which means Norman's Bistro should be around for the community to enjoy for quite a while.
"We're surviving," Bolden says with a smile. "When we opened, we were told we couldn't make it here. Very much so. Folks were counting days and months until I closed. There were so many naysayers and the location was wrong; it's a ghost town down here. And of course, no one wanted to fund it – and no one did.
"But I was determined. And after all the turbulence of just trying to get it going, there was just no way that I was not going to make it work. My mother had a relentless drive. When she set out to do something, she got it done regardless of whatever turbulence or obstacles were in the way. Just relentless. A little of that – being hardheaded – I think I have.
"Some people wanted to see how long I'd stay and people have begun to come around because they realize I'm not going anywhere. So I invite everyone to come on down for an amazing experience, phenomenal food, great libation and just a wonderful time at Norman's Bistro!"
(Editor's Note: Norman's Bistro books private events – the bar, the dining room or the entire space, as does Room 43. In addition, it is a full service caterer for buffet to sit-down dinners of up to 450 people and is on the Chicago Park District's preferred vendors list. To reach Norman's Bistro, call 773/966-5821 or visit www.normansbistrocom.)