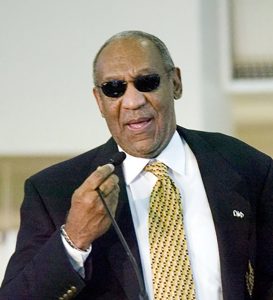 Bill Cosby won't face criminal charges on two rape accusations — one from just eight years ago and another five decades old.
The Los Angeles District Attorney's Office has ruled that too much time passed to prosecute Cosby for assaulting a woman who claims she was 17 in 1965 when the disgraced funnyman "forced her to have sexual intercourse" at a home in the Hollywood Hills.
The alleged attack came after Cosby plied the teenager with liquor at a Hollywood jazz club, the DA's charge evaluation worksheet states Chloe Goins, a model who claims entertainer Bill Cosby drugged and sexually abused her at the Playboy Mansion in 2008.
Prosecutors also decided not to go after Cosby for allegedly assaulting a then 18-year-old woman in 2008 who is identified in the document as "Jane Doe #2." She claimed she met Cosby at the Playboy Mansion and that he molested her after giving her a spiked drink.
That woman, Chloe Goins, went public with her charge against Cosby last January. But investigators reviewing video footage from the Aug. 9, 2008 "Midsummer Night's Dream Party" where Goins claimed to have met Cosby did not find images of either of them.
While Cosby's name turned up on the guest list for an event at the mansion in February of that year, he was not registered as a guest for any bash there that summer.
Latest posts by Contributor NDIGO (see all)