When:
August 26, 2017 @ 8:00 pm
2017-08-26T20:00:00-05:00
2017-08-26T20:15:00-05:00
Where:
Star Plaza
Merrillville
IN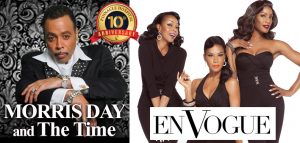 Pinnacle Hospital 10th Anniversary presents Morris Day and The Time ("Jungle Love," "The Bird," "Jerk Out") and En Vogue ("Hold On," "My Lovin' (You're Never Gonna Get It," "Giving Him Something He Can Feel," "Free Your Mind," "Whatta Man," "Don't Let Go")
Accessible Tickets
To better accommodate your needs, Star Plaza Theatre has requested that all special seating accommodations be solicited only through their representatives. Please contact a Star Plaza Theatre representative for further help with your ticket purchase.* Advance ticket purchase may be required. * Box office information is subject to change.
Telephone Number(s):For accessible seating call 219 649-7954
Service Hours:TUESDAY through SATURDAY NOON until 4:00 p.m. CLOSED SUNDAY, MONDAY and HOLIDAYS The Box Office will continue to be open during event days through intermission. The Box Office will be closed on holidays unless there is a scheduled event.