When:
September 16, 2017 @ 8:00 pm
2017-09-16T20:00:00-05:00
2017-09-16T20:15:00-05:00
Where:
Chicago Theater
175 N. State Street
Chicago
IL 60601

Contact:
Ticketmaster
(312) 902-1500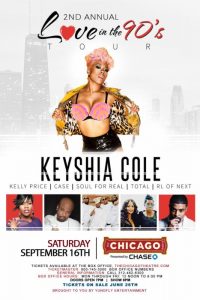 2nd Annual Love In The 90's Tour
Event Info
Love in the 90s Tour featuring Keyshia Cole, Kelly Price, Case, Soul For Real, Total, RL of Next **Talent line-up subject to change**
Ticket Limits
There is an overall 8 ticket limit for this event.
Accessible Tickets
Wheelchair seating is reserved for the exclusive use of patrons with a disability and their guests and the purchase or use of these seating locations by non-disabled individuals is strictly prohibited and can result in ejection and/or forfeiture of ticket price. If the individual with a disability cannot attend an event for which he/she has purchased tickets, call the Disabled Services Department prior to the event taking place for further instructions. THE CHICAGO THEATRE WHEELCHAIR SEATING POLICY: You may choose from two types of Accessible seating: Wheelchair or Wheelchair Transfer. Only one Wheelchair (your wheelchair used as seat) with one companion ticket can be purchased per transaction. Only one Wheelchair Transfer (transfer from your wheelchair to an aisle seat) with one companion ticket can be purchased per transaction. Any additional companion seats must be purchased in a separate transaction using the Standard Admission. Tickets for people with accessible needs, subject to availability, may be purchased in several ways: 1) Order Online – To order online: a) Get to the order form for the event you wish to purchase. b) When the order form is displayed, choose the type (Wheelchair OR Wheelchair Transfer) and quantity (1 or 2) of tickets you desire. c) Select the section and delivery method, then press the "Look for Tickets" Button. 2) Call Ticketmaster at (312) 902-1500. 3) Call The Chicago Theatre's Accessible Services Department at (888) 609-7599. 4) Visit The Chicago Theatre's Box Office. For additional information regarding accessing The Chicago Theatre or to request any other accommodations, please call The Chicago Theatre's Disabled Services Department at (888) 609-7599. Assistive Listening Devices (ALD) devices are available upon request. ADA tickets are not available via Ticketmaster Outlets. * Box office information is subject to change.
Telephone Number(s):Inquiries or requests concerning accessibility should be directed to the Accessible Services Department for The Chicago Theatre at (888) 609-7599.
Service Hours:Monday through Friday, 10:00 AM to 6:00 PM. On days of show (Monday through Saturday): 10:00 AM to Show Time. On days of show (Sunday): Call for hours.